About Access Copyright Foundation
Access Copyright Foundation was launched in 2008 by Access Copyright's Board of Directors with a one-time contribution of $3 million from royalties accumulated by Access Copyright for the use of works whose authors could not be identified. The Foundation and its grant programs were created to be a vehicle for Access Copyright to reinvest those unattributable funds into the creative community. This original fund, along with early annual contributions from Access Copyright, provide annual funding to Access Copyright Foundation's Marian Hebb Research, Professional Development and Events grant programs.
Each year, Access Copyright Foundation engages writers, visual artists, and publishing and arts professionals from across the country to adjudicate its grant programs. The adjudication process also allows Access Copyright Foundation to consult with jurors and gather information on the cultural and industry ecosystem from their region and in their field of expertise. Through this constant connection between the cultural community and industry, Access Copyright Foundation is able to respond quickly to current needs and trends in support of the creative vitality of Canadian writers, visual artists and publishers.
Access Copyright Foundation programs are administered by SK Arts. As one of the oldest public arts funders in the world, SK Arts is widely recognized for its excellence in grant management and is the ideal organization to deliver Access Copyright Foundation grant programs to applicants from all across Canada.
Access Copyright Foundation strives to embody its values of excellence in publishing; professionalism; inquiry and engagement; imagination and creativity; curiosity and lifelong learning; and the expression of the unique and diverse voices of Canadian creators, publishers and arts organizations. In all aspects of Access Copyright Foundation's work including its leadership, communications, jury selection and adjudication, the Foundation aspires to uphold these values. Access Copyright Foundation believes that equity requires intention and action to counteract systemic racism, sexism, ableism, homophobia/heterosexism and other oppressions.
With its annual funding envelope of $250,000, Access Copyright Foundation offers an essential contribution to the work of individual creators, member service and advocacy organizations, and to publishers all over Canada. Since its establishment, Access Copyright Foundation has provided over $2.5 million dollars in grants to support over 600 research projects, festivals, reading series, workshops and professional development opportunities.
In 2020 Access Copyright Foundation contributed $100,000 to the Canadian Writers' Emergency Relief Fund spearheaded by the Writers' Trust of Canada and the Writers' Union of Canada to provide support to writers and visual artists suffering substantial income losses during the Covid-19 pandemic.
Access Copyright is a collective voice of creators and publishers in Canada. A non-profit, national organization, Access Copyright represents over 13,000 Canadian writers, visual artists and publishers and their works. Through agreements with sister organizations around the world, the collective also represents the works of hundreds of thousands of foreign creators and publishers. Access Copyright licenses the copying of this repertoire of published works to educational institutions, businesses, governments and others. The proceeds gathered when content is copied and shared are passed along to the copyright holders. The redistribution of these royalties help to ensure the continued creation of new and innovative works. This is vitally important to a strong Canadian culture and to all who rely on quality publications.
In addition to its active and ongoing work advocating for the rights of creators and publishers to be fairly compensated for the copying of their work, Access Copyright is dedicated to the future of rights management and content monetization. Its subsidiary, Prescient Innovations, is working to leverage exponential technologies to build a dynamic, new ecosystem for creators, rightsholders and their audiences. Follow all of Access Copyright's initiatives on Twitter, Facebook, Instagram and LinkedIn.
We'd love to hear from you!
An important part of Access Copyright Foundation's work is celebrating the recipients of our grants, and the work that these grants have been able to facilitate.
We feature our grant recipients on our Spotlight page, and to also recognize their accomplishments on Access Copyright's social-media channels.
Please send photos of your Access Copyright Foundation-funded activities and updates on the work you are undertaking by email anytime to
info@accesscopyright.ca
. Share them as well on social media tagging Access Copyright (@AccessCopyright).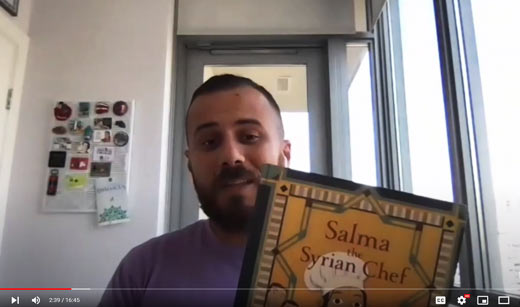 Access Copyright Foundation's 2020 Events Grant to the Frye Festival supported the creation of seven Story Time readings featuring English- and French-language Canadian writers that were made available on YouTube.